Aesir Shark






via
YouTube
Many of us love the ocean, the smell of it, the sound, how we feel when we are on the shore or out at sea. Yet many of us are unaware of our impact on this source of life. Did you know that about a million
seabirds
, turtles, whales and dolphins die each year from eating ocean plastic? It's a big problem and you can be part of the solution! All One Ocean creates permanent, community generated
Beach Clean Up Stations
(B'CUS). These Stations provide a simple way for you and any beach-goer to help collect trash while enjoying the beach- According to the Monterey Bay Aquarium, many people think that the biggest source of pollution in the ocean is oil spilled from ships–but most marine pollution is
litter
that starts out on land.The most dangerous litter is our throw-away
plastic
because of its longevity and capacity to increase in toxicity, eventually returning to the human food chain in a more lethal form.
Much of our plastic ends up in the ocean in giant collections of trash called gyres,created by circular ocean currents. They trap debris for decades where it continues to break into ever smaller, more toxic pieces, never fully biodegrading.
Too much of it winds up in the bellies of marine life. Like seabirds whose primary diet can be pieces of plastic and styrofoam.
Creatures in the sea have existed for millions of years. They have not adapted to our ocean debris. When swallowed it contaminates the natural food chain – adding toxicity to our own systems when we eat ocean life.
Beach Clean Up Stations provide a simple, doable way for people to have fun cleaning up trash as they enjoy their beach activities.
As with our pilot project on Limantour Beach in Point Reyes National Seashore, communities organize and maintain these permanent, do-it-yourself Stations.
By removing beach trash we protect ourselves as well as the fish, turtles, whales, dolphins and seabirds that are sustained by our collective Ocean.
Studies have shown that people who do volunteer work live happier, healthier and longer lives. In the words of Kenny Ausubel, "Hope is a bird with its sleeves rolled up."
Every tiny piece of human trash picked up is one less toxin in someone's stomach.
#Earth #Island #Institute | Project Support | Start a Project
"We recently attracted the notice of a large foundation; they would never have looked at a group our size if we were not part of EII. It provides name recognition and credibility with donors and other supporters."
–Alyson Ewald, The Altai Project
Earth Island Institute's Project Support Program provides an opportunity for committed individuals and groups with a good idea to launch a project with us, or to gain sponsorship for an existing project. This model is an efficient alternative to having dozens of separate nonprofits working in isolation and spending precious resources duplicating basic administrative functions.
Starting and running a non-profit organization requires a great deal of administrative and logistical effort. This effort limits the time and energy that can be applied toward actually carrying out program objectives. Our Project Support Program eliminates this obstacle by providing projects with non-profit status, administrative services, training, technical assistance, and a peer community. In addition, we provide our projects with assistance in planning, public outreach, fundraising, and other resources and services that maximize the effectiveness and quality of our collective efforts.
Sponsorship Eligibility & Selection Criteria
The following conditions must be met in order to be considered for project sponsorship:
Earth Island Institute provides sponsorship to projects that support our environmental mission and are consistent with our 501(c)(3) nonprofit status.
New projects should plan to stay at Earth Island for at least one year.
Project Directors must have regular access to phone and email in order to maintain communication with Network Services staff.
How Do Diamonds Form? | They Don't Form From Coal!
How Do Diamonds Form?
Contrary to what many people believe, most diamonds do not form from coal.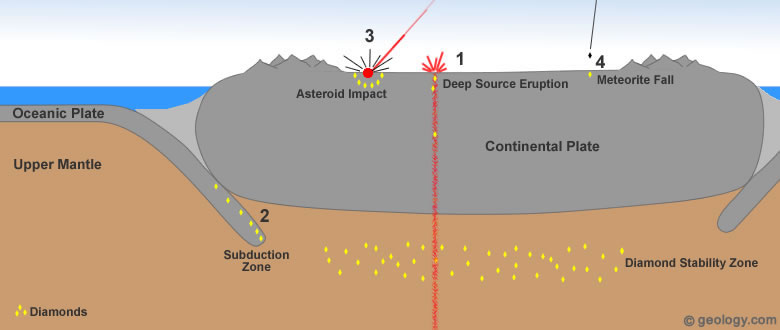 Diamonds found at or near Earth's surface have formed through four different processes. The plate tectonics cartoon above presents these four methods of diamond formation. Additional information about each of them can be found in the paragraphs and small cartoons below.
Methods of Diamond Formation
Many people believe that diamonds are formed from the metamorphism of coal. That idea continues to be the "how diamonds form" story in many science classrooms.
Coal
has rarely played a role in the formation of
diamonds
. In fact, most diamonds that have been dated are much older than Earth's first land plants - the source material of coal! That alone should be enough evidence to shut down the idea that Earth's diamond deposits were formed from coal.
Another problem with the idea is that coal seams are
sedimentary rocks
that usually occur as horizontal or nearly horizontal rock units. However, the source rocks of diamonds are vertical pipes filled with
igneous rocks
.
Four processes are thought to be responsible for virtually all of the natural diamonds that have been found at or near Earth's surface. One of these processes accounts for nearly 100% of all diamonds that have ever been mined. The remaining three are insignificant sources of commercial diamonds.